Answers

Nov 19, 2019 - 11:32 AM
The Short Answer:
Yes!
Ectrolytic capacitors
are compatible with all of our Dielectric Coolants, except for capacitors that use a natural or butyl rubber plug.
Now for the Long Answer:
Electrolytic Capacitors
("EC") can sometimes cause problems in full immersion cooling depending on the coolants being used and their compatibility with the plug found in the bottom of the EC. The plug is there specifically to contain the liquid or gel electrolyte found inside the EC that must remain sealed inside the capacitor for their proper operation.
This plug (shown in red in the diagram below) is typically made from a host of materials including: Natural rubber (cis-polyisoprene, NR) ethylene propylene rubber, (ethylene propylene copolymer), butyl rubber (isobutylene-isoprene copolymer), styrene butadiene rubber (SBR), silicone rubber (methyl vinyl silicone) and EPDM rubber (Ethylene Propylene Diene Monomer). Of these the vast majority of ECs use EPDM as the plug material with which Engineered Fluids' Dielectric Coolants is compatible.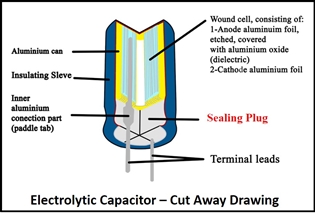 In addition to being engineered specifically to be compatible with EPDM plugs in ECs, our Dielectric Coolants are also compatible with all the other plug materials
EXCEPT
for
natural rubbers
and
butyl rubber
. These two natural rubber materials have large pores which allows our coolants to enter materials and causes them to swell to many times their original size. Devices using ECs that use natural or butyl rubber plugs should not be immersed in Engineered Fluids Dielectric Coolants.
It should be noted that natural or butyl rubber plugs are increasingly rare, however we have had the experience where we've tested a device that used EPDM plugs and then found the contract manufactured had switched to a butyl rubber for a random sample of devices. These swap-outs have only occurred on typically the lowest quality and cheapest devices, and that all high-quality electronic equipment vendors have strict policies against component swap outs with their contract manufactures.
As way of comparison we note that mineral oil and halogenated dielectrics liquids are NOT compatible with these materials either, and in addition are often not compatible with some blends of EPDM, SBR and some types of silicone rubbers.